Date
14 October 2021
Time
09:00-13:00 (Brussels time)
Location
Online
Duration
0,5 day
Trainers
Learning Objectives
Provide an overview on gender dimensions in STEM research

Help to understand the concepts of sex and gender and their relevance for research – focusing STEM related topics

Sensitize on the importance of including the sex and gender dimension into research projects and designing more gender sensitive projects
Target Group
Researchers at (STEM related) universities and private companies

Research team leaders

Research officers / research advisors / people in charge of supporting research projects

People in charge of the valorisation /dissemination of research outputs

Officers at research and transfer support units at universities
Agenda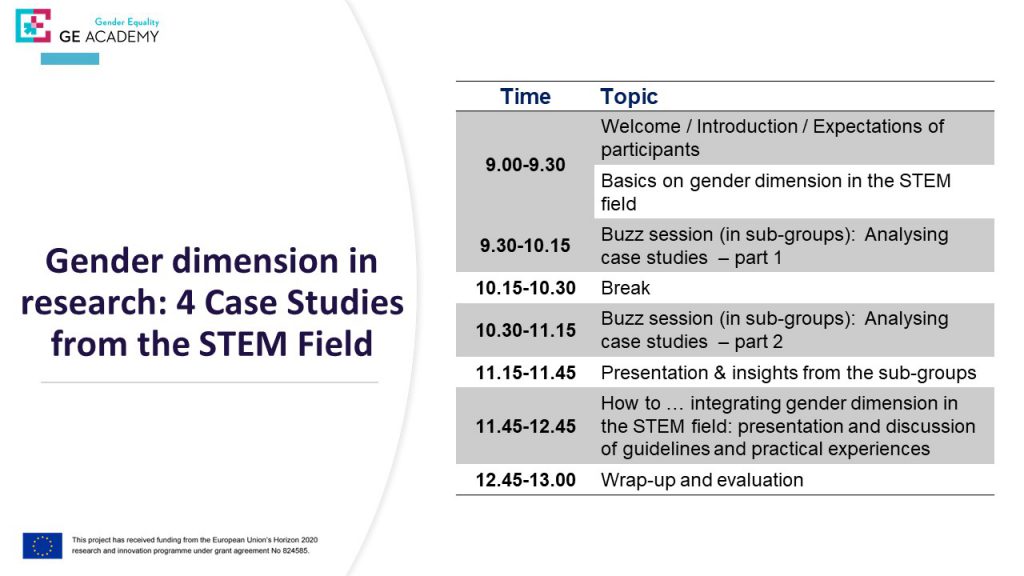 Trainers

Managing director at B-NK GmbH and lecturer at TU Wien (Austria)
Dr Bente Knoll holds a master's Degree in Landscape Planning and Architecture, a PhD in Transport and Traffic Planning and a certificate in Mainstreaming-Gender-and-Diversity-in-Organisations. She is managing director of B-NK GmbH Büro für nachhaltige Kompetenz (Consultancy for Sustainable Competence) – an SME and independent research institute located in Vienna, Austria. Her main professional interests and area of expertise are in integrating gender and diversity perspectives in research and consulting processes in science, engineering, technology, urban, transport and landscape planning, mobility research as well as sustainable development. In addition to her work as a consultant, Bente Knoll holds teaching assignments – basic and advanced lectures as well as seminars – in Gender Studies and Engineering at various Austrian universities.

Reseach and project manager, Smart Venice
Marzia Cescon is Researcher and Project Manager at Smart Venice, where she is currently mainly involved in the scientific coordination of the CALIPER project, which supports Universities and Research Institutes in the design and implementation of Gender Equality Plans. She is gender trainer and participated in the Train the Trainers programme of the GE Academy project, as well as in the course ``Gender, Women, Peace and Security`` organized by the Human Rights Center of the University of Padova. She holds a Master's Degree in business administration and a Master Diploma in Global economics and social affairs at Ca' Foscari University in Venice.
Further Information