To be able to view our Trainers'/Experts' communication details and some more information, please register or login.
Dr. Marzia Cescon M.Sc
Reseach and project manager, Smart Venice
Researcher and Project Manager
Marzia Cescon is Researcher and Project Manager at Smart Venice, where she is currently mainly involved in the scientific coordination of the CALIPER project, which supports Universities and Research Institutes in the design and implementation of Gender Equality Plans. She is gender trainer and participated in the Train the Trainers programme of the GE Academy project, as well as in the course ``Gender, Women, Peace and Security`` organized by the Human Rights Center of the University of Padova. She holds a Master's Degree in business administration and a Master Diploma in Global economics and social affairs at Ca' Foscari University in Venice.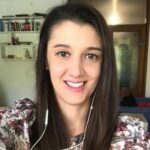 Location
Country / Countries of Residence: Italy
Professional Background
Professional Position / Role
Researcher / Scolar
Trainer
Area of Expertise
Facilitation expertise
Topical expertise
Sectors of Work Experience
Universities and Higher Education Sector
Administration
Private Sector
Civil Society
Availability for Trainings
Availability for Training Formats ONLINE
Training Session (duration: half day up to two days)
Faciliator
Speaker in a webinar (duration: up to half day)
Availability for Training Formats IN-PERSON
Training ession (duration: half day up to two days)
Speaker in an event (duration: up to half a day)
Faciliator
Willing to travel abroad for trainings: yes
Target Groups
Gender Equality change agents
Gender Equality researchers / scholars
Staff assigned to recruitment procedures
Staff in charge of research planning and coordination / support to research projects
Team members of Gender Equality committees and / or working groups
Training Content Types
Gender+: Basic definitions and concepts
Gender Equality Plan: Introduction
Gender Equality Plan: Design and implementation
Gender Equality Plan: Monitoring and evaluation
Institutional gender analysis
Gender bias in recruitment, promotion and career management
Gender Equality in organisational culture and work-life balance
Acting against gender-based violence and sexual harassment
Sex and gender dimension in research content
Gender dimension in curricula and teaching
Gender sensitive and inclusive communication
Training Languages
Trainings held during the GE Academy project