To be able to view our Trainers'/Experts' communication details and some more information, please register or login.
Dr. Jovana Mihajlović Trbovc
Research Centre of the Slovenian Academy of Sciences and Arts
research fellow
Jovana works on issues related to gender equality in academia and gender dimension in science as part of several European, bilateral and national projects, including creation and implementation of the GEP for her home institution. As a member of the Commission for Equal Opportunity in Science (a consultative expert body to the Ministry of Education of Slovenia) she presides over the Expert Group on Guiding Principles on Sanctioning Harassment and Bullying in Academic Sphere established by the Commission. She coordinates community of practice Alt+G (Alternative Infrastructure for Gender Equality in Academic Institutions) and provides trainings for researchers on integrating gender dimension into research, as well as workshops on gender equality plans. As of 2022, in addition to her research position, she is the Gender Equality Counsellor at the Research Centre of the Slovenian Academy of Sciences and Arts.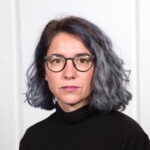 Location
Country / Countries of Residence: Serbia • Slovenia
Professional Background
Working Experience
since 2015: Research fellow (previously postdoctoral fellow), Research Centre of the Slovenian Academy of Sciences and Arts (ZRC SAZU), Institute of Culture and Memory Studies, Ljubljana
2014: Freelance researcher in social sciences (self-employed)
2009-13: Junior research fellow, Peace Institute (Mirovni Inštitut), Institute for Contemporary Social and Political Studies, Ljubljana, Slovenia
2010-11: National coordinator and public advocate for the Initiative for RECOM (Regional Commission Tasked with Establishing the Facts about All Victims of War Crimes and Other Serious Human Rights Violations Committed on the Territory of the Former Yugoslavia in the period from 1991-2001) in Slovenia
2007: Journalist, Radio Študent, Ljubljana, Slovenia
2005-06: Information management and research assistant, Canadian International Development Agency, Belgrade, Serbia
Working experience in Gender Equality since: 2015
Professional Position / Role
Researcher / Scolar
Expert
Trainer
Area of Expertise
Scientific expertise
Topical expertise
Sectors of Work Experience
Universities and Higher Education Sector
Scientific Background
With background in political science and anthropology of nationalism, dr. Jovana Mihajlović Trbovc examines political issues from perspective of culture studies. She was awarded the 2015 Jean Blondel PhD Prize for the best thesis in politics issued by the European Consortium for Political Research. Her research focuses on the reproduction of social memory in relation to the Yugoslav Wars of the 1990s and World War II, and the history of women under socialism, particularly female scientists. She published papers in journals Wagadu: Journal of Transnational Women's & Gender Studies, War & Society, International Journal of Transitional Justice, International Criminal Justice Review, and contributed to edited volumes: The Media of Memory (Brill, 2020); Legacies of the International Criminal Tribunal for the Former Yugoslavia: A Multidisciplinary Account (Oxford University Press, 2020); The Use and Abuse of Memory: Interpreting World War II in Contemporary European Politics (Routledge, 2017). She co-authored Toolkit for Integrating Gender-Sensitive Approach into research and Teaching and developed workshops for researchers on the basis of it.
Online Visibility
Twitter ID: @jovanatrbovc
Availability for Trainings
Availability for Training Formats ONLINE
Training Session (duration: half day up to two days)
Speaker in a webinar (duration: up to half day)
Availability for Training Formats IN-PERSON
Training ession (duration: half day up to two days)
Training Programme (duration: a week and more)
Speaker in an event (duration: up to half a day)
Willing to travel abroad for trainings: yes
Target Groups
Decision-makers (middle management)
Gender Equality activists / promoters
Gender Equality change agents
Gender Equality researchers / scholars
Lecturers
Staff in charge of research planning and coordination / support to research projects
Team members of Gender Equality committees and / or working groups
Training Content Types
Gender+: Basic definitions and concepts
Gender Equality Plan: Introduction
Gender Equality Plan: Design and implementation
Gender Equality in leadership and decision-making
Institutional gender analysis
Gender Equality in organisational culture and work-life balance
Intersectionality and institutional change processes
Sex and gender dimension in research content
Gender dimension in curricula and teaching
Gender sensitive and inclusive communication
Training Languages
Bosnian
Croatian
English
Montenegrin
Serbian
Slovene
Trainings held during the GE Academy project